American Standard Roller Chain
American Standard chains commonly known as ASA chains.
Currently we stock a range of transmission roller chains from ASA25 (1/4" Pitch) through to ASA200 (2 1/2" Pitch) in simplex, duplex and triplex. Con links and half links are also available.

Along with the standard chains, we also offer multi strand chains for the logging industry. This includes 4 strand, 5 stand and 6 strand to suit ASA50 - ASA120

All chains have gone through Donghua's testing systems and qualitiy control facilities manufactured to the ISO (International Standards) ANSI, BS, DIN and JIS standards.

Donghua not only do the standard roller chain but they also offer heavy roller chain or HSP chain (Heavy Super Power roller chain) - Spec sheets and info sheets for HSP are below. These chains are specific for Agricultural machinery but have also been used in many other high intensity running applications. Listed below are the simplex dimensions but for duplex/triplex or multi-strand options please consult our PDF's or feel free to get into contact.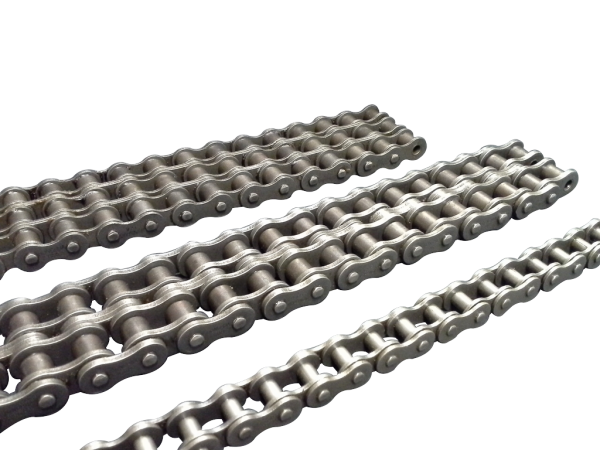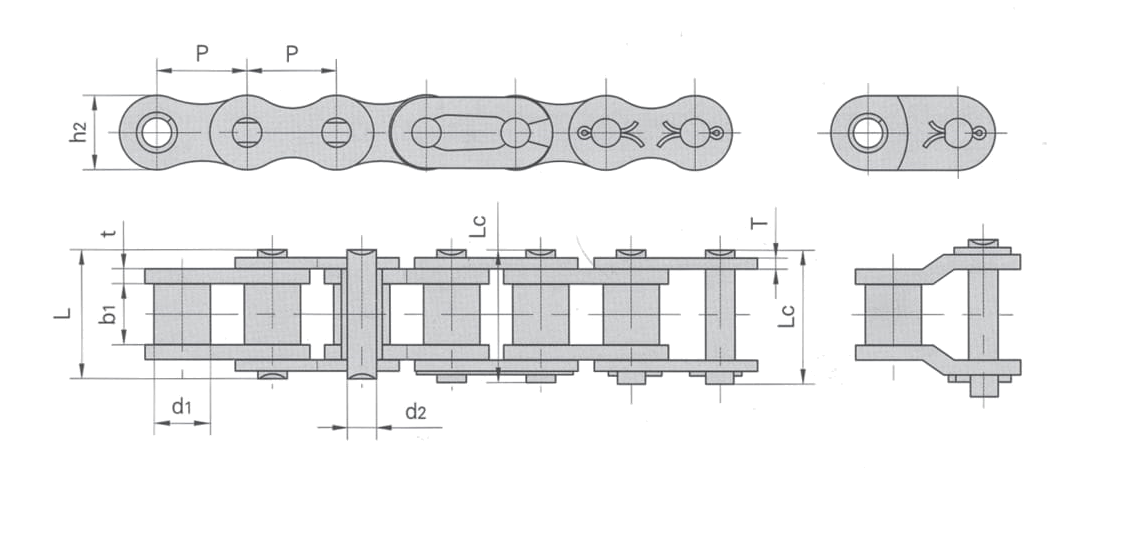 Name
Pitch
Roller Diameter
Width between inner plates
Pin Diameter
Pin Length
Pin Length
Plate Thickness
Average Tensile Strength
ANSI Chain Number
Inner Plate Depth
Enquire
P
d1 max
b1 min
d2 max
L max
Lc max
T max
Qo
h2 max
mm
mm
mm
mm
mm
mm
mm
kN
mm
ASA25-1
6.350mm
3.30mm
3.18mm
2.31mm
7.90mm
8.40mm
0.80mm
4.6
25
6.00mm
Enquire
ASA35-1
9.525mm
5.08mm
4.77mm
3.58mm
12.40mm
13.17mm
1.30mm
10.8
35
9.00mm
Enquire
ASA40-1
12.700mm
7.95mm
7.85mm
3.96mm
16.60mm
17.80mm
1.50mm
17.5
40
12.00mm
Enquire
ASA41-1
12.700mm
7.77mm
6.25mm
3.58mm
13.75mm
15.00mm
1.30mm
12.6
41
9.91mm
Enquire
ASA50-1
15.875mm
10.16mm
9.40mm
5.08mm
20.70mm
22.20mm
2.03mm
29.4
50
15.09mm
Enquire
ASA60-1
19.050mm
11.91mm
12.57mm
5.94mm
25.90mm
27.70mm
2.42mm
41.5
60
18.00mm
Enquire
ASA80-1
25.400mm
15.88mm
15.75mm
7.92mm
32.70mm
35.00mm
3.25mm
69.4
80
24.00mm
Enquire
ASA100-1
31.750mm
19.05mm
18.90mm
9.53mm
40.40mm
44.70mm
4.00mm
109.2
100
30.00mm
Enquire
ASA120-1
38.100mm
22.23mm
25.22mm
11.10mm
50.30mm
54.30mm
4.80mm
156.3
120
35.70mm
Enquire
ASA140-1
44.450mm
25.40mm
25.22mm
12.70mm
54.40mm
59.00mm
5.60mm
212.0
140
41.00mm
Enquire
ASA160-1
50.800mm
28.58mm
31.55mm
14.27mm
64.80mm
69.60mm
6.40mm
278.9
160
47.80mm
Enquire
ASA200-1
63.500mm
39.68mm
37.85mm
19.85mm
80.30mm
87.20mm
8.00mm
431.6
200
60.00mm
Enquire